Aarya Ocean Logistics Park PVT. LTD.
A leader in top grade industrial salt since many years and looking further to offer the finest of salts to the industries worldwide
In India, road transportation accounts for 65% of India's freight, while rail transportation which is more reliable, faster and cost effective gets only 32% share. It is dispiriting scenario since Indian Railways has 4th largest rail network in the world. There is a pressing need to optimally utilize this extensive network by setting up better infrastructure in order to reform India's logistics dynamics.
MALIYA PFT - REDEFINING LOGISTICS for Industries
AARYA OCEAN LOGISTICS PARK PRIVATE LIMITED, a logistics infrastructure provider, is now redefining the logistics landscape for industries in Gujarat by tapping into the potential of rail logistics network.
AOLPPL has set up a state of the art Private Freight Terminal at MALIYA in MORBI- District ,Gujarat. The terminal offers first mile to last mile connectivity and other value added services. MALIYA PFT is an ideal platform for industries of Gujarat to meet the fast changing needs of customers while bringing down cost of logistics.
PROXIMITY TO KEY LOCATIONS
Our PFT Is Adjacent To MALIYA Railway Station, On (Ahmedabad- Viramgam-Samkhiyali) Railway Line Of Ahmedabad Division And Falls Midway Between Ahmedabad And Mundra. The NH-27 Is Just 2000 M Away Which Is Connected With Approach Road NH 947 Leading From Highway To Terminal Helping In Easy Movement Of Cargo. MALIYA Town Is Just Opposite Of The Facility And MORBI Is Just 32 Km Away.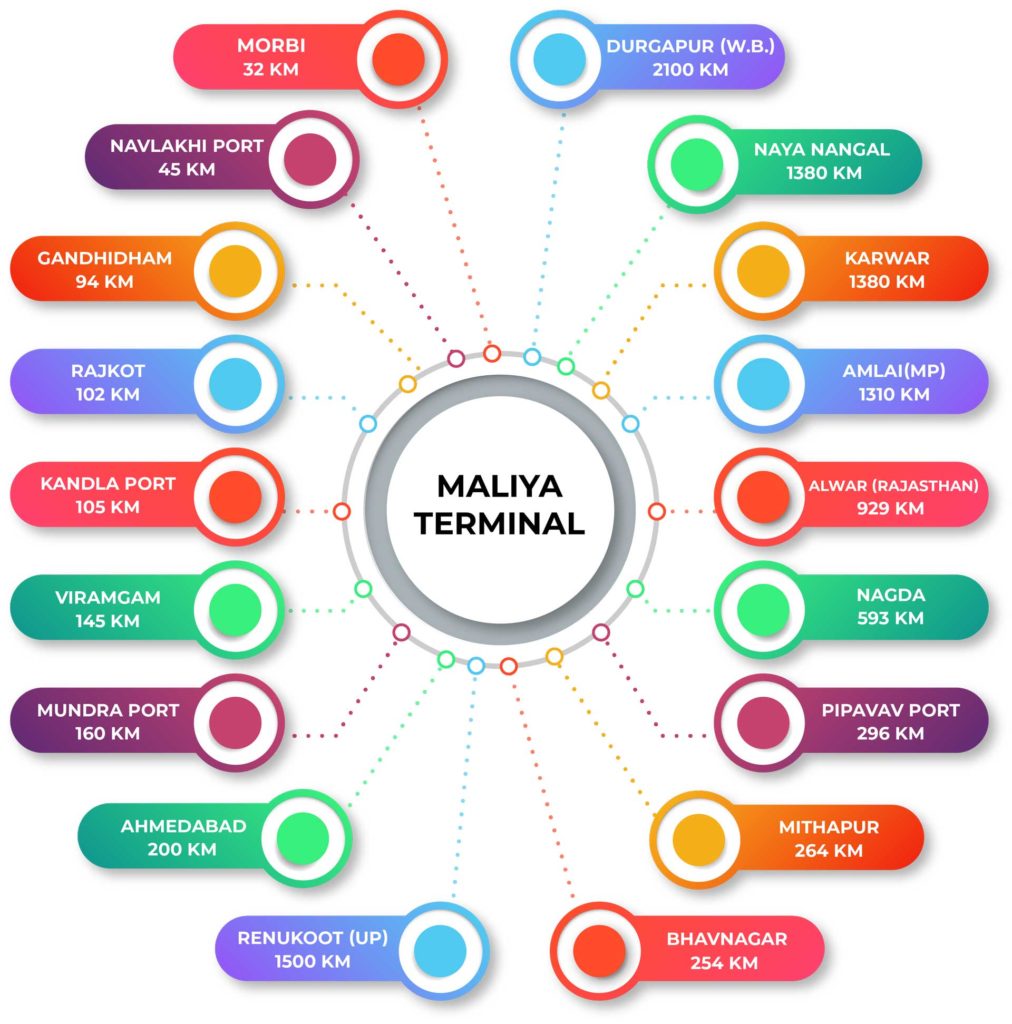 MALIYA PFT Is A State Of The Art Multimodal Logistics Platform With Integrated Infrastructure Facilities Like Inland Container Depot And Warehouse. The PFT Is Equipped To Handle All Types Of Cargo And Containers. Area Of PFT Is Of More Than 4, 00,000 Sq. Meters At A Strategic Location. Total Area Occupied By The PFT Is More Than 100 Acres. AOLPPL Provides Hassle Free, Safe, Fast, Cost Effective And End To End Logistics Solutions With Value Added Services To Domestic As Well As EXIM Customers Through This Facility.
The Rail Terminal Can Hold More Than 10,000 Containers At Any Given Time. We Can Handle Upto 4 Train Every Day, Warehousing Facilities Can Also Be Provided Based On Requirement Of Customers.
Salt Industries Which Is The Oldest Industries In The Area Will Get A Huge Benefit Because Of The MALIYA PFT. More Than 25 Lakh Tonnes Of Salt Is Supplied From Maliya To Different Parts Of The Country.
Ceramic Industry In Morbi , Which Produces 6 Million Tonne Ceramic Products In A Year And Fulfil Around 70% Of India's Demand, Will Get A Huge Boost Due To This Facility.
AOLPPL Is Committed To Cater To Logistics Needs Of Salt, Soda, Tiles And Other Mix Commodities.
MALIYA PFT Will Help Industries Save More Than 10% In Transportation Cost Through Containers
We believe in forging a long lasting and enduring relationship with our business partners. Trust and mutual benefits happens to be the foundation of forging such a relationship .Some of our existing customer and Target customers: